The current vichy treatment may interest me, the graphic summer flowers intrigue me and the nineties peas make me the effect of delicious Madeleines Proust, it is clear that once placed in a situation of purchase, I Have eyes only
for stripes …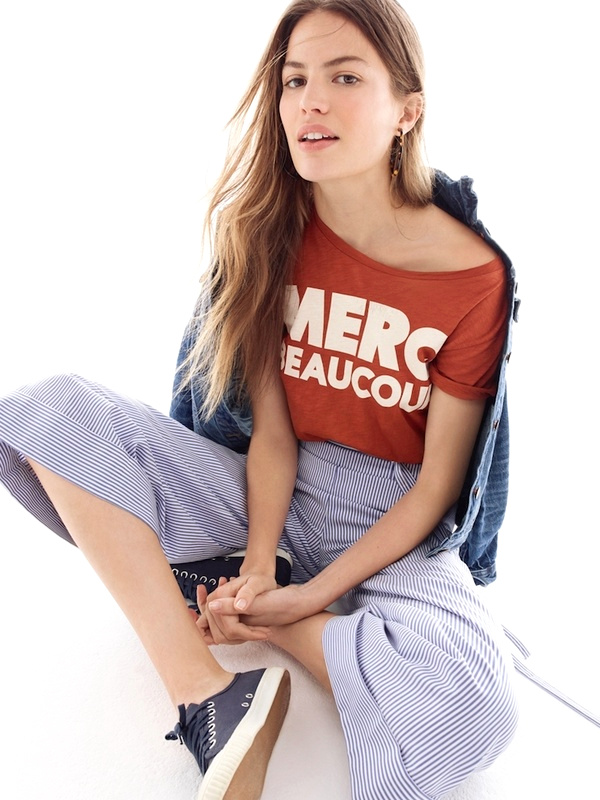 In terms of images that influenced my stylistic tastes, that of Charlotte Gainsbourg in "L'Effrontée" – which I discovered at 11 years – is undoubtedly the most founder. Since that time, my eye was thus systematically attracted by the horizontal stripes to the nonchalant drag (see here and there ). I particularly appreciated the ability of the sailor to mix graphic rigor and seaside relaxation. A hybrid DNA that allowed him to intrude brilliantly in all styles …
So logically , I finally end up adopting it in the long run. A blessed period during which my sailors allowed me to compensate many of my lack of chronic clothing inspiration: Their blue or red stripes "hepburnised" my boyfriend jeans, dedramatized my ample midday skirts, chicized my shorts in jeans and casualized my bikinis (I loved donning a sailor ample and light after a swim in the Atlantic, Front).
Yes, but it seems that all good things have an end. It is in any case what inspires me the succession of blows of the fate suffered lately by my small collection of marinières and other striped t-shirts: the one found in American Apparel ended up tearing at the neck after 5 years of Good and loyal services, that of Petit Bateau (forgotten among the towels sponges) came out of the dryer in size 8 years, That of APC received a masterful shot of black marker from my adorable son, while that of Topshop was lost during our last stay in Paris. In short, within a few months, the marinières had finally deserted my dressing room.
Meanwhile, the vertical stripes that flooded the visual landscape began to speak seriously to me. I loved their slack pajamas and their masculine nature, but their highly trendy dimension kept me at bay. I let go a few weeks, then before the persistence of my attraction, I ended up jumping the pace. As if the sudden disappearance of the horizontal stripes of my cupboards allowed me to try something else … In
recent weeks, I acquire three pieces with vertical stripes:

The first is this pretty basic shirt shopped in the man ray from Gap. Its slightly broad stripes and light cotton (but not too much) make it an easy partner. I wear the rolled sleeves, With a necklace a little baroque and half slipped in boyfriend denim shorts.

The second is this shirt dress from Antropologie . A priori far too girly for me, it finally revealed – thanks to its hybrid cut and patchwork of stripes – perfectly match my silhouette and my style. I wear it with sneakers and warms it with a masculine blazer or a khaki military jacket.

The third is the 7/8 wide trousers from J.Crew , which I appreciate the ability to flirt with the "homewear" trend without getting lost. At this time, I am adapting it to a brick-tight tee-shirt or a pale pink tee-shirt, all of which are worn with minimalist gold jewelery. I also want to associate it with other " But I do not have pierced ears, I find it difficult to find models that really appeal to me (a pity that there is no Mango in Toronto, I would have tried to transform This copy Proenza Schouler …).
In short, whether they are horizontal or vertical, the stripes have the chic to make me want to experiment a thousand associations, to try other styles, to dare to telescoping the patterns. They put me in an appetite and confidence. Quite rare qualities that make them totally indispensable today for my stylistic survival … There is no Mango in Toronto, I would have tried to transform this copy Proenza Schouler …). In short, whether they are horizontal or vertical, the stripes have the chic to make me want to experiment a thousand associations, to try other styles, to dare to telescoping the patterns. They put me in an appetite and confidence. Quite rare qualities that make them totally indispensable today for my stylistic survival … There is no Mango in Toronto, I would have tried to transform this copy Proenza Schouler …). In short, whether they are horizontal or vertical, the stripes have the chic to make me want to experiment a thousand associations, to try other styles, to dare to telescoping the patterns. They put me in an appetite and confidence. Quite rare qualities that make them totally indispensable today for my stylistic survival … They put me in an appetite and confidence. Quite rare qualities that make them totally indispensable today for my stylistic survival … They put me in an appetite and confidence. Quite rare qualities that make them totally indispensable today for my stylistic survival …